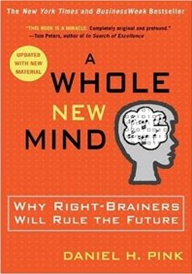 After having listened to the recording of a speech by Daniel Pink, I quickly decided to purchase the audio version of A Whole New Mind: Why Right-Brainers Will Rule the Future. In this book, the author first starts to describe how our brains work from a high-level point of view. The human brain is divided into two hemispheres, a left and a right part. The author explains the differences between these two parts of our brains, stating that left-brain (L-directed) thinking implies more logical, linear reasoning while right-brain (R-directed) thinking is more holistic and artistic.
The message that he is trying to bring across, is that while society highly values L-directed thinking, R-directed thinking is getting more and more important in the world of tomorrow. There are three basic questions that identify and point to R-directed activities:
Can someone overseas do it cheaper?
Can a computer do it faster?
Am I offering something that satisfies the nonmaterial, transcendent desires of an abundant age?
The answer to these questions should be "no, no and yes". If not, then those kind of activities can be automated or done much cheaper by out-sourcing. Those kind of activities are delineated as left-brain activities.
The second part of the book is called "The Six Senses", which are:
Design
Story
Symphony
Empathy
Play
Meaning
For each of these senses, the author tries to find real-world examples and stories to prove the values of these aptitudes.
In short, this is simply a fascinating book. I can highly recommend this book to just about anyone. Two thumbs up!