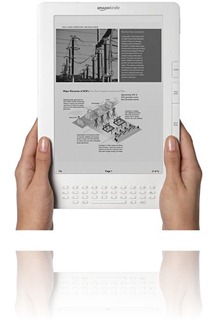 As my bookshelf has grown out of proportion over the last years, I basically had two options left. First option was to build an extra room onto my house that could serve as a private library, which is kind of expensive. Second option was to the reduce the amount of paper by buying an eReader device. I chose to investigate the second option. I already heard and read a lot of nice things about the Amazon Kindle, especially the Kindle DX.
As you may or may not know, these devices were not available in Europe until about a month ago Amazon announced that they will make the Kindle 2 available outside the US. But what I really wanted was the Kindle DX because it seemed to provide good support for PDF documents while the Kindle 2 doesn't support this format at all. I already had a couple of eBooks in PDF format, so that was the most obvious choice for me. I also checked with the major book publishers and most of them also provide the native Kindle (AZW) and Mobi formats (beside PDF).
The only problem left was to get a Kindle DX to Belgium. Luckily David and Elle were happy to help me out on this one (many thanks). And so, since a couple of weeks I'm a proud owner of a Kindle DX. I must say that I really like the experience so far.
I wanted to read both novels and technical books using this device. The 9.7" e-ink screen (no backlit or LCD) provides a pleasant reading experience. At first, I was afraid that some documents wouldn't be as readable due to the fixed format of PDF. But thus far, the Kindle DX seems to solve this very elegantly. Getting a PDF documents on the device is as easy as you've come to expect. Just hook it up on your PC using USB, copy the files and you're good to go.
The size of the Kindle DX can be compared to a regular technical book. Its also incredibly thin and it definitely doesn't weigh as much as some books.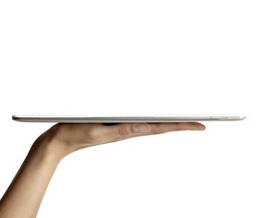 The amount of storage is amazing. I can practically put my entire library on there without running out of space. It also has a very long battery life. I've been using it for about two weeks now and so far I did not have to recharge the battery.
Skimming through a book does take some time. You can't beat a paper book on that one. But the search capabilities are very neat and it's also possible to search in multiple books (which again is rather difficult with paper books).  You can place bookmarks its possible to go to a specific page number. The experience of going to a next or previous page was a bit odd at first, but I got used to that after a couple of hours. With auto-rotation, you can read a document in portrait or landscape. The only downside is that the experience is not as fluent as with an iPhone or iPod Touch because sometimes it can take a couple of seconds to adjust. Below are some pictures of my Kindle DX in order to get a sense of the PDF support that it provides: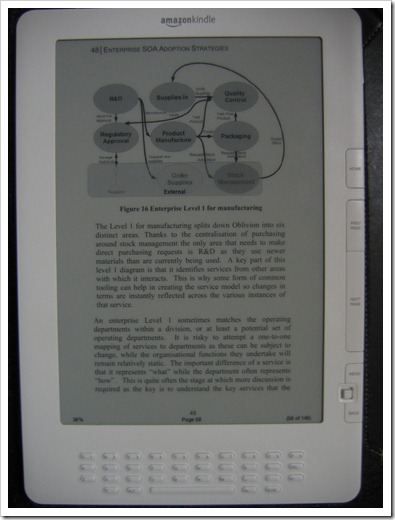 Enterprise SOA Adoption Strategies (InfoQ)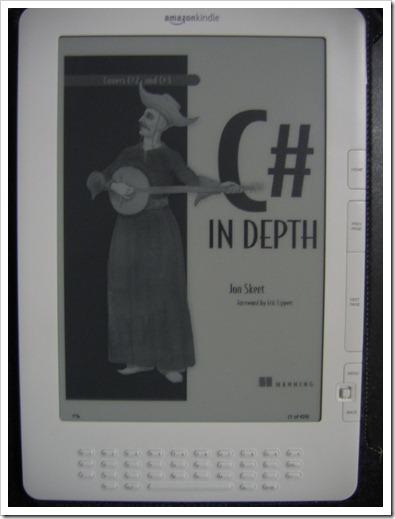 C# in Depth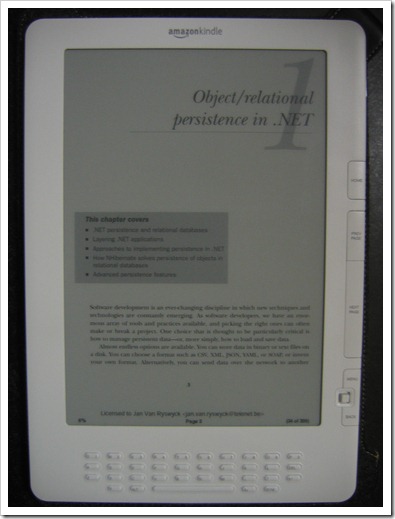 NHibernate in Action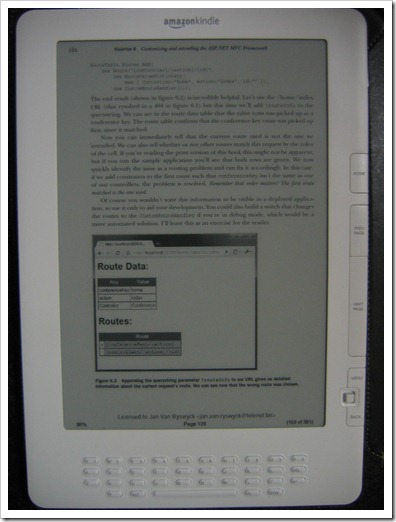 ASP.NET MVC in Action
I haven't tried the text-to-speech feature and wireless support. I also need to check out the support for audio books and the ability to make notes while reading. I think the most obvious new feature for a next version of the Kindle DX would be a color touch screen. That would make the whole experience even better.
Bottom line, compared to the Kindle 2, the Kindle DX is a no brainer. If you're able to spend the extra money, you won't regret it. The PDF support and the large screen are definitely worth it.